"Eat food. Not too much. Mostly plants." - Michael Pollan
Hello! Lotte here. I'm the lead chef of Synthesis. It's still unbelievable that we're not in the Synthesis kitchen preparing food for all our lovely guests. We miss you!
I hope you and your loved ones are doing well and staying safe. And if so, maybe this crisis is a time to reflect and for contemplation, and maybe more time to spend to enjoy cooking. That's why we're sharing five new unprocessed, seasonal recipes to try at home.
1. Wicked mushroom salad
Feel like a refreshing and light lunch? Try this very easy-to-make raw mushroom salad. It's also nice to serve as a light starter.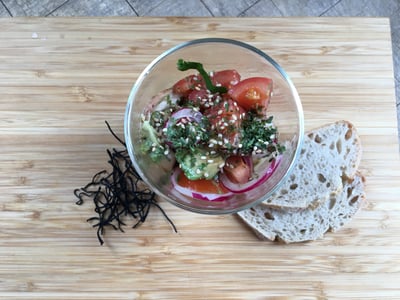 What ingredients do you need? (Feeds two)
2 or 3 mushrooms, sliced
1 small red onion, sliced
1 tomato, cut into cubes
0,5 avocado, in cubes
3 tbsp white butter Beans
Fresh cilantro
3 tbsp Apple vinegar/ lime juice
1 tbsp agave syrup or other sweetener
1 tbsp olive oil
1 tbsp sesame oil
1 tsp soy sauce


How to make the salad
Mix the mushrooms and red onion with the Apple vinegar/lime and agave sirup, marinate for 30 minutes.
Then mix it with the rest of the ingredients and season with salt and pepper.
You could also top it with sesame seeds and dried seaweed flakes, serve it with sourdough Bread, or if you mix soba noodles to it, it's a full meal. It's also tasty with Hijiki seaweed baked with soy sauce. Yummy!
2. Summer Salad
I am always happy when peaches and nectarines are available again. These are really delicious to bake and then serve on a tasty, fresh salad.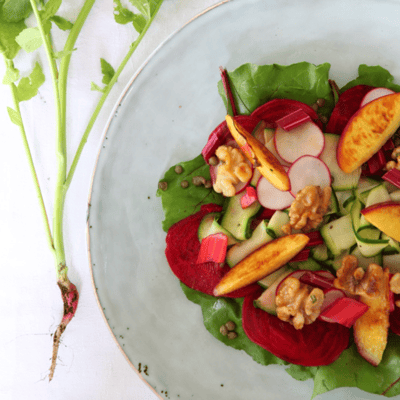 What ingredients do you need? (Feeds four)
150 grams of (beluga or depuis) lentils
200 grams of walnuts
1 sprig of rosemary, sprigs finely chopped
2 tbsp honey or agave syrup
1 small zucchini
Juice of half a lemon
2 (wild) peaches, cut into wedges
2 beetroot with leaves
1 bunch of radishes, thinly sliced
Dash of balsamic vinegar / crema
Dash of extra virgin olive oil
Salt and pepper
How to make the salad
Cook the lentils in plenty of water (without a lid and without salt) until tender. Cook lentils without salt, otherwise the cell walls of the lentils damage and that causes the lentils to get mushy. Leave the lid off the pan so that poorly digestible substances that are broken down during cooking can escape.
Meanwhile, caramelize the walnuts. Heat a drop of oil in a frying pan and add the walnuts. Cook the walnuts. Add 1 tbsp honey, the chopped rosemary and a pinch of salt. Bake for another minute. Shake the caramelized walnuts on baking paper to cool. Clean the baking pan.
Cut the zucchini into thin ribbons with a mandolin, peeler or cheese slicer. Mix the lemon juice with 1 tbsp agave syrup, salt and pepper and add the zucchini ribbons.
Heat a little (coconut) oil in the frying pan and roast the peach wedges.
Clean the leaves of the beetroot and cut into large strips. Cut the stems into 1 cm strips. Peel the beetroot and slice it thinly, this can also be done using a cheese slicer.
Season the depuis lentils with salt, pepper and a dash of balsamic vinegar / crema
Serve the dish. Start with the beet leaves, then the lentils, the slices of beet, zucchini ribbons, radishes and the wedges of peach. Sprinkle with balsamic vinegar and olive oil and spread the walnuts on top. Enjoy this colorful plate.
3. Thai Thom Kha Soup
This delicious, scented soup is a tasty summer dish. Serve as a simple and fast meal during the week or as on our retreats as a celebratory meal by serving all add-ons in separate bowls, so that everyone can put together their own meal.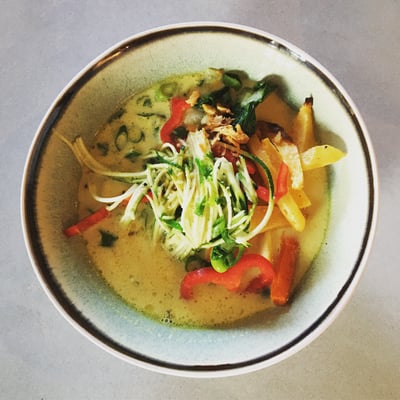 What ingredients do you need? (Feeds six)
Makes 2 litres of soup:
4 stems of lemongrass
5 cm fresh ginger, coarsely grated or cut
6 cm fresh turmeric, sliced ​​or 1 tbsp dried turmeric (optional)
1 clove of garlic
1 onion, chopped
Stems of a bunch of coriander
1 red chilli pepper, cut into rings
1 tbsp coriander seeds
10 lemon leaves
1 litre of coconut milk
1 litre of vegetable stock
How to make the soup
Hit the ends of the lemongrass a few times hard with a large knife or with a rolling pin so that they pop open.
Cut the stems in half.
Heat a little coconut or rice oil in a high pan and fry all herbs for 5 minutes.
Add the coconut milk and 1 liter of broth and boil for 20 minutes. You can strain the soup.
Then add any veggies you have in your fridge: carrot, broccoli, eggplant, peas or spinach for example.
Boil till the veggies are tender, but still have a nice bite.
Serve with fresh cilantro.
4. Tahin chocolate cake
We serve this heavenly vegan chocolate tahin cake as a welcome snack✨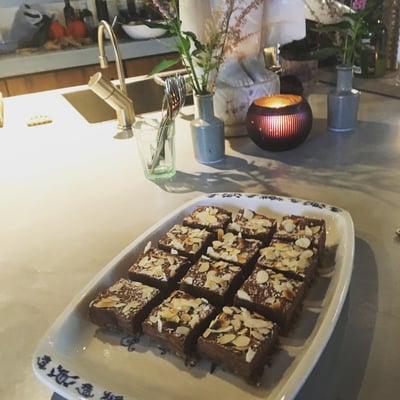 What ingredients do you need? (Feeds many)
For the bottom:
150 grams mixed nuts
16 dates
Pinch of salt

For the filling:
3 avocados
2 bananas
150 ml coconut oil, melted
1 can of Organic coconut milk (placed in the freezer, so you can separate the solid from the liquid, you only use the harden part)
2 tbsp Tahin
4 tbsp cacao
Pinch of salt

For presentation:
Roasted almond flakes
Dried coconut
How to make the cake
Mix the ingredients for the bottom in a food processor.
Put baking paper in a brownie mould. Divide the mixture evenly over it.
Mix the ingredients for the filling in a food processor.
Divide it over the bottom.
Place in the freezer for 30 minutes.
Sprinkle the coconut and almond over it.
Enjoy!
You can keep this cake for over a week in the freezer. Take it out 30 minutes before serving.


5. Mango Sorbet
We love desserts. This one is healthy and very easy to make, topped with delicious pineapple with chocolate.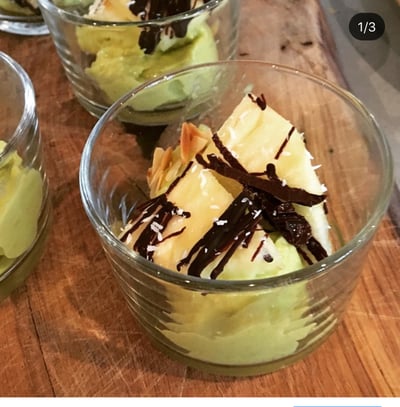 What ingredients do you need? (Feeds many)
250 grams frozen mango
1/2 avocado
1 banana
Juice of half a lemon
Grate of half a lemon
How to make the sorbet
Mix everything in your food processor or with a hand-mixer into a sorbet (so put the frozen mango in). The nice thing is you can make this with any frozen fruits.
Best to serve immediately but you can also keep it in the fridge voor 30-60 min.
For the topping, crush 45 grams of dark 85% chocolate. Melt the chocolate au bain marie by placing the bowl with chocolate in a bowl with boiled water.
Meanwhile cut half a fresh pineapple in small slices and put the pineapple on a plate. Of course, you can do this with any fruit like pear, strawberry...
Use a spoon to drip the chocolate over it - feel like an artist. You can sprinkle a little bit of grated coconut over the pineapple.
Place it in the fridge for 15 min (or max half a day).
We're very curious to find out which recipes you've created at home. Feel free to share on social media, tagging us @synthesisrtrt (Instagram), and Synthesis Retreat (Facebook and LinkedIn)
Our chefs are very much looking forward to summer with an abundance of veggies and the start of our retreats. And of course we'll share our most popular recipes with you. Until next time!
For more delicious recipes follow @doorzeefoodatelier