"I would be a vegetarian if I could eat like this every day!"
Hello! Lotte here, I'm the Lead Chef at the Lighthouse. We always smile when our enthusiastic guests tell us our food changes minds. That's one of the reasons we like to share our recipes, so you can start cooking our delicious and healthy food at home.
The psilocybin experiences at the Lighthouse bring people new insights and increases the degree of connection that each participant has to themselves, others, and the wider world. We like to encourage people to experience this greater connectedness to the world and her nature through a vegetarian kitchen too.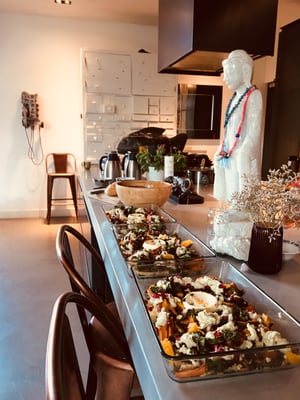 In our kitchen, we believe in the power of high quality, unprocessed food. We serve mainly vegan meals with sometimes a cheese or egg options on the side. Eating seasonal veggies is good for you and our environment. Seasonal veggies contain many nutrients your body needs for that particular season. We choose to cook with unprocessed organic food, because this food contains the highest amount of nutrients together with all the substances your body needs to digest it properly.

We'll be sharing our five favourite recipes every season, along with leftover tips because we don't want good food to go to waste.
Here are the five tasty winter recipes from our kitchen.

1. Wicked Kale Salad
2. Roasted veggies with a yummy creamy almond aioli
3. The most crispy burgers ever!
4. Our famous Banana Bread
5. Heart-warming crumble
1. Wicked Kale Salad
This Kale salad is our absolute favourite salad for the winter. By massaging the dressing into the kale you soften it and together with the mushrooms you turn it into a real satisfying side-dish.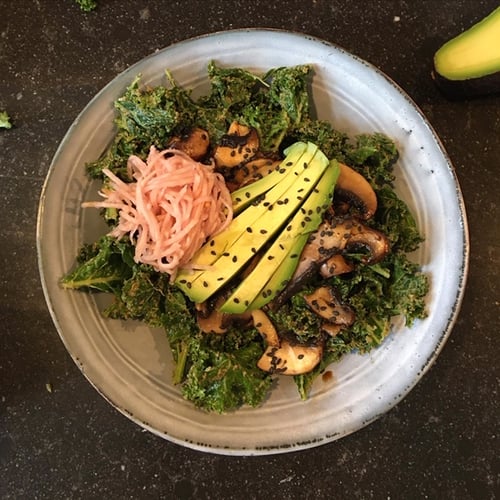 What ingredients do you need? (Feeds four)
20 whole kale leaves, hard nerves cut out
4 bigger mushrooms or 8 smaller ones, cut in slices
2 tbsp soy sauce (salty)
For the dressing:
100 grams cashew nuts
Juice of 0,5 lemon
1 tsp mustard
1 tbsp soy sauce
Optional: 2 tbsp yeast flakes
Salt & pepper
How to make the salad
Heat olive oil in a baking pan and add the mushrooms.
Fry for 5 minutes and then add the soy sauce.
Bake until the mushrooms soak up all the sauce. Season with pepper.
Meanwhile make the dressing by mixing all the ingredients and a little bit of water in a kitchen machine or with a hand mixer.
Massage the kale with the dressing. You can really pinch it, put some energy in it!
Serve with the mushrooms on top. In the picture it's served with some avocado and sweet and sour beetroot.


2. Roasted veggies with a yummy creamy almond aioli
All winter root veggies are delicious roasted. In this recipe we share a festive meal with different veggies served with crispy kale and a flavourful almond aioli. And feel free to experiment with different vegetables, everything will taste nice!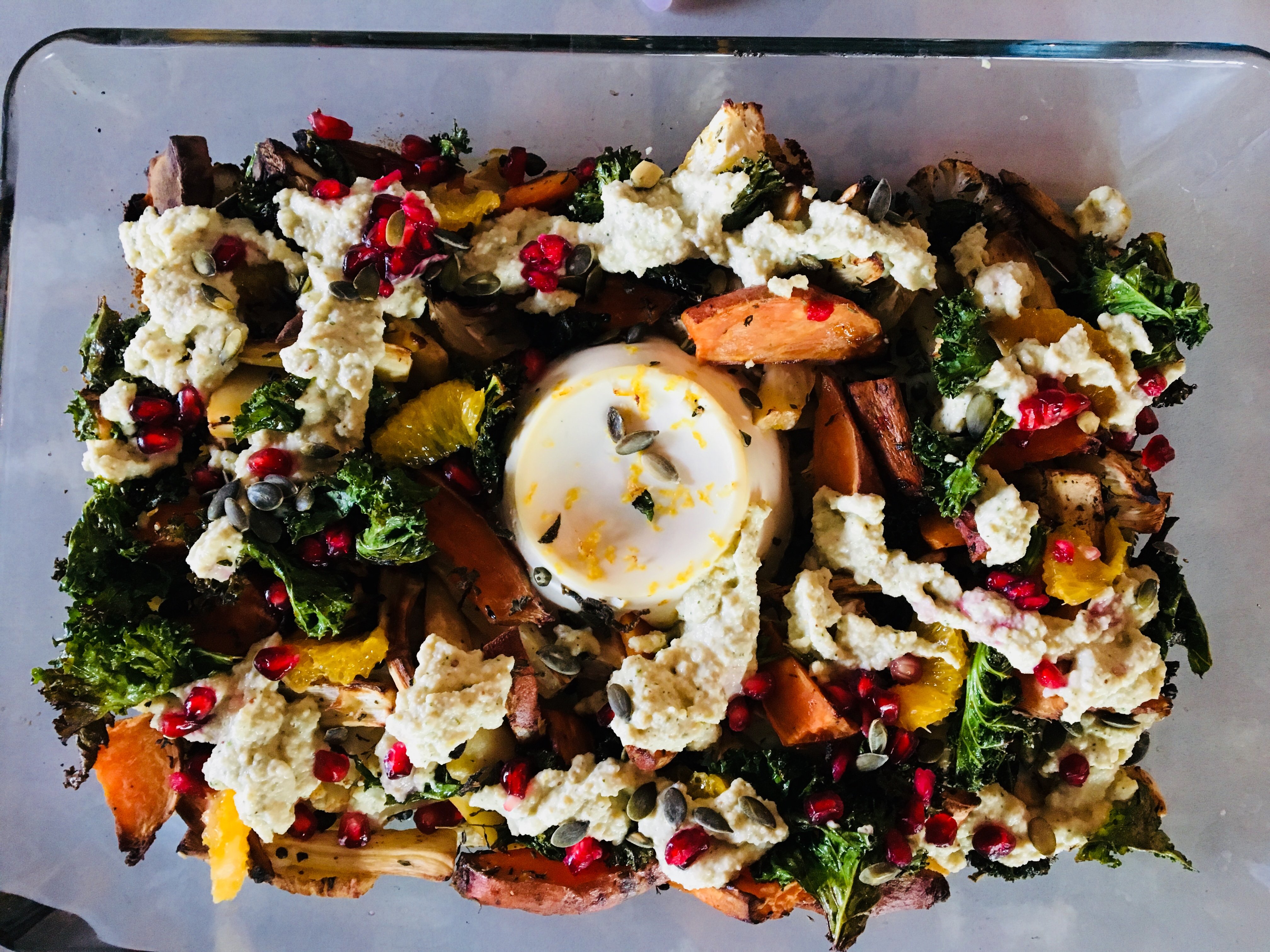 What ingredients do you need? (Feeds six)
1 small celeriac, cut into square cubes
3 parsnips, cut into pieces
0.5 cauliflower, cut into florets
3 roots
2 citrus fruits: orange, grapefruit or mandarin oranges
Kale or palm cabbage, 6 leaves
Bunch of sage, chopped (optional)
2 tbsp capers
1 tbsp dried or fresh thyme or za'atar herbs
For the aioli:
200 grams of almonds
100 grams of cashew nuts
2 tbsp mustard
50 ml extra virgin olive oil
100 ml almond milk (or other vegetable milk or water)
1 clove of garlic
Juice of half a lemon
Zest of 1 lemon
If you have aioli left, you can also use this for the kale salad or of course to top on anything else! And if you have left-over veggies, turn it into a nice winter soup by boiling it with stock and mixing it.
How to make this dish
Preheat the oven at 150 degrees.
Start with preparing the kale. Get the hard stems out of the leaves. Add a little bit of olive oil and a pinch of chilli powder (optional), salt and pepper.
Spread the kale out on a baking sheet and bake crispy in the oven for about 10 minutes or until crispy. Save in a bowl.
Heat the oven to 200-220 degrees.
Put all the vegetables (except the kale) and capers in a large baking dish.
Drizzle with olive oil, thyme / za'atar, fresh sage, pepper and salt.
Place in the oven for 30-45 minutes until the vegetables are tender.
Meanwhile remove the citrus fruits from the skin and skins.
Make the aioli by mixing all the ingredients in a food processor or blender into a creamy sauce.
Remove the dish from the oven. Divide the aioli on top, followed by the kale and citrus fruit and optional some baked seeds. Nice to serve with red rice.

3. The most crispy burgers ever!
This is a burger, or actually a fritter, which you can make with all kinds of different veggies, from carrots in winter to zucchini in Summer.
What ingredients do you need? (Feeds four)
150 gram celeriac root, grated
1 small onion, diced
2 tsp ground cumin
1 tsp ground fennelseeds (optional)
2 tsp ground coriander seeds
1 tsp baking powder
100 gram chickpea flour
50 gram cornflour (polenta)
2 tsp salt
180 ml water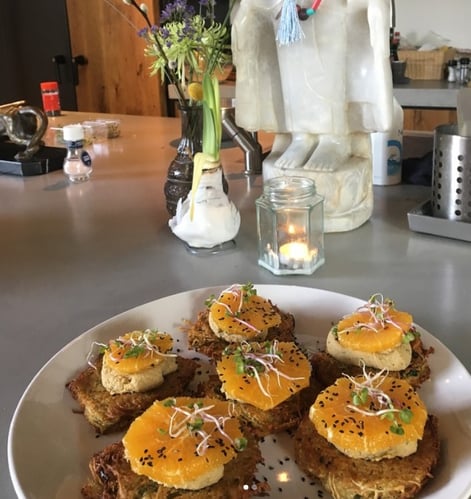 How to make these burgers
Put all the ingredients, except the celeriac in a bowl or a food processor and mix into a fairly smooth batter.
Stir in the celeriac.
Heat a layer of sunflower oil in a frying pan and spoon a spoonful of batter into it & press flat.
Turn over when the burger is done halfway through (when it has brown looks on the sides). This may take a while, at least 5 minutes. And bake for 5 more minutes or until it looks brown on the other side.
We like to serve them with a scoop of hummus and a slice of orange with a richly filled rice or quinoa salad on the side.
You can leave the batter for up to 3 days in a closed jar in the fridge.
4. Our famous Banana Bread
We serve this banana bread to our guests for breakfast, but it's also very nice as a snack at any other moment of the day. Add some dark chocolate to the mixture and it turns into a real treat, or add some berries in Summer, like raspberries or blueberries.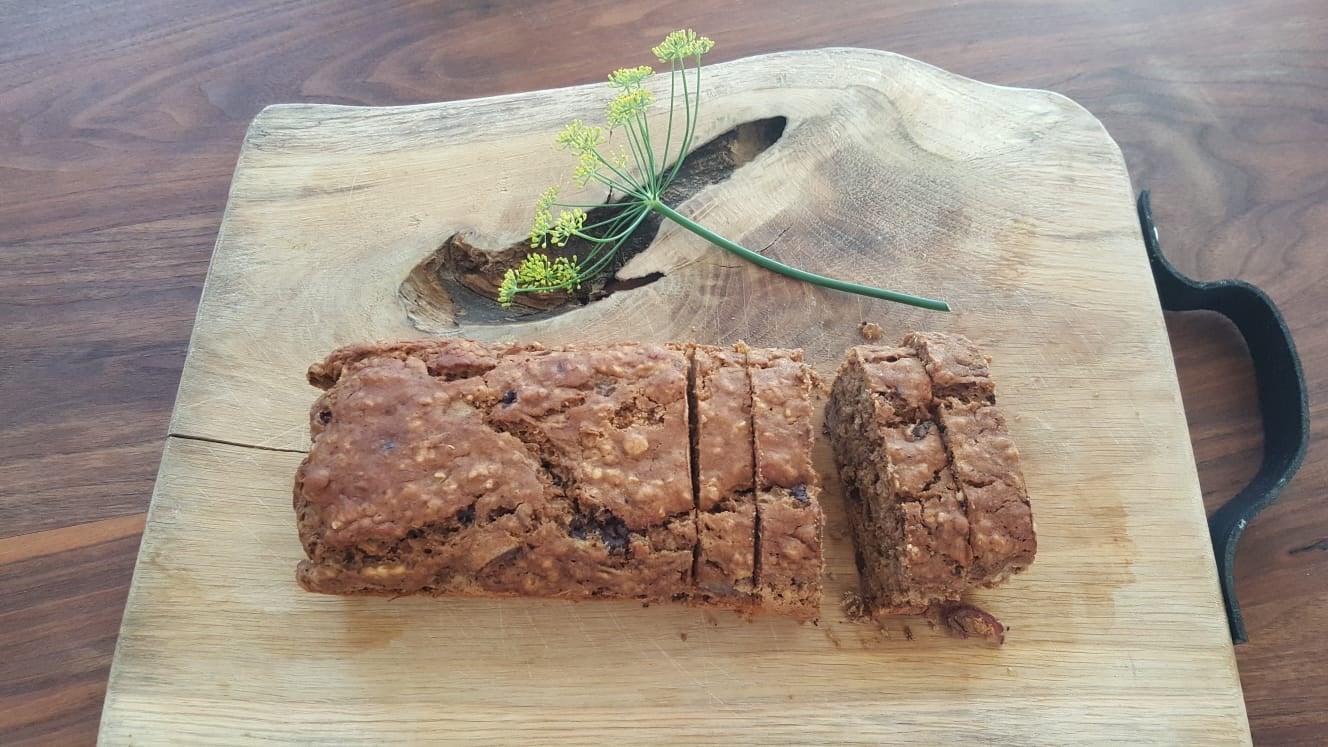 What ingredients do you need?
For 1 banana bread, collect:
3 (over)ripe bananas
2 tablespoons lemon juice
2 tablespoons sunflower or coconut oil
45 grams of coconut sugar
5 dates, cut into pieces
190 grams of buckwheat or plain flour
45 grams of oatmeal
a pinch of salt
1 teaspoon baking powder
1 teaspoon of baking soda
Cinnamon
250 ml almond milk (or other dairy-free milk)
Hand of nuts, small cut
How to make banana bread
Heat your oven to 180 degrees
Mash the bananas in 1 bowl.
Add the lemon juice, the (melted!) Coconut oil, almond milk, dates, nuts and coconut sugar. Stir with a wooden spoon.
In another bowl, mix together flour, oatmeal, salt, baking powder and baking soda.
Now combine all ingredients (dry and moist) and stir very slowly with a wooden spoon.
Lightly grease a cake tin with coconut oil or baking paper, scoop the batter into the cake tin and immediately slide into the oven for 45 minutes. The banana bread is ready when a skewer you stick in, comes out clean.
Tip: freeze slices of banana bread, so you can take one of the freezer to take with you or to keep it fresh.
5. Heart-warming crumble
Nothing beats a warm fruit dessert in wintertime. To our guests, a crumble feels like real warming comfort food after the ceremony. You can vary the fruits during the seasons, for example plums in autumn, apples in winter, rhubarb in spring and soft red fruit in Summer.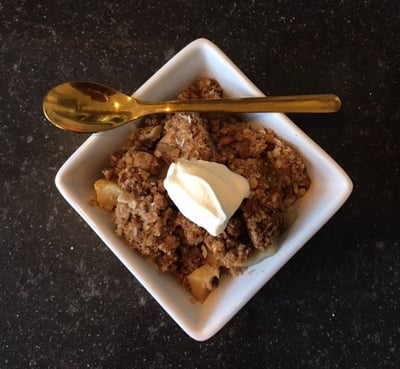 What ingredients do you need? (Feeds six)
150 grams flour (for example spelt or almond flour)
150 grams oatmeal (or replace this for 150 grams extra flour)
2 tbsp coconut blossom sugar (or cane sugar if you prefer)
1 tsp cinnamon
Little pinch of salt
90 gram unmelted coconut oil
2 apples, diced in 2 by 1 cm pieces
1 pear, diced in 2 by 1 cm pieces
You can also use other overripe or left-over fruits from your fruit bowl.
How to make crumble
Preheat the oven at 180 degrees.
Mix all the ingredients into a rough dough, don't turn it into a ball, but leave it in small chunks.
Divide the fruit in an oven tray dish, the whole bottom should be covered with the fruits.
Divide the crumble evenly over the fruit.
Place it in the oven for 30 minutes or until the fruit looks sizzling hot and the top is nicely brown.
Very nice to eat with a splash of coconut yoghurt.

We're curious to find out which recipes you've created at home! Our chefs are very much looking forward to Spring and start cooking with all the new veggies this season has to offer us! And of course we'll share our most popular recipes with you. Until next time!
On Instagram:
For more delicious recipes follow @doorzeefoodatelier
For all things on psychedelics, follow @synthesisrtrt